Vehicle registration plates of Brunant have been used since the 1900s to register vehicles. They are required for motor vehicles and are administered by an agency of the Department of Transport and Communications and issued by a number of municipal governments.
Standard plates
Edit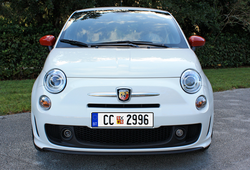 As most plates in countries within the European Union, Brunant's plates have a blue strip on the left showing the country code in white text and the Flag of Europe.
Plates have used a two-letter, four-number combination since 1965 (such as BD 1980) and still use the same font. The current EU-style design dates to 1999. Numbers which are retired are reissued again for new vehicles. The current alphanumeric combination on plates allows for 6.759.324 different plate characters.
Official plates
Edit

Official government plates are issued to the Queen and her family, as well as the Prime minister and formerly the President. These are numbered 1 and 2, respectively and are only used on state cars of Brunant. Other royal vehicles may bear the numbers three to nine.
Diplomatic plates
Edit

Diplomatic plates feature a yellow color and use a different numbering system (starting with CD for corps diplomatique or diplomatic corps), one to three digits for the country and two digits to identify the car. The current diplomatic plate system has been in use since 1990. The country codes presently used are:
26 Lithuania
27 Slovakia
28 Finland
29 Canada
30 United States
31 Austria
32 Prasia
33 Cettatie
34 China
35 Greece
36 Hungary
37 Libertas
38 Russia
39 Sweden
40 Mexico
41 Kuwait
42 Croatia
43 Serbia
44 Slovenia
45 Malta
46 Egypt
47 Mäöres
48 Inselöarna
49 Ghana
50 Bosnia and Herzegovina
51 Lebanon

52 Jordan
53 Japan
54 Argentina
55 Saudi Arabia
56 United Arab Emirates
57 Kemburg
58 Ukraine
59 Lebanon
60 Brazil
61 Bulgaria
62 South Africa
63 Israel
64 Poland
65 Nigeria
66 Pintona
67 Strasland
68 Norway
69 India
70 Iran
71 Romania
72 Switzerland
100 United Nations
101 Palestine
Other types
Edit
Military: the Royal Guard uses plates with the prefix "M" and four digits (such as M 0156). They feature the Royal Guard emblem instead of the coat of arms.
Police: the National Police uses plates with the prefix "P" and four digits (such as P 2238). They feature the police logo instead of the coat of arms.
Temporary plates: used by automobile and other vehicle dealers for unsold or recently sold vehicles. These are red, are simply printed on the metal and have a validity period of six months. They use a numbering system of two letters, starting with W, 3 digits and then two digits, along with the expiry date (such as WA 125 77 08/12).
Motorcycle: these are almost square and feature a two letter, three digit combination (such as GT 260).
Bus: These feature a two-letter, five-digit combination, in use since 1953 (such as AS 12296). Unlike car or motorcycle plates, retired bus plate numbers are never reissued.
Commemorative plates
Edit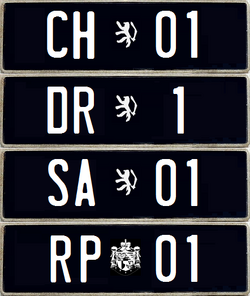 In 2017, the Department of Transport and Communications and the parishes announced a series of one-off commemorative plates to be sold at auction to raise funds for charitable purposes. All the plates are issued in the 1965-series black, with a two-letter parish code followed by the number "1" or "01". Most feature the small lion indicative of Brunant, but Roseland, Mariaberg and Helmond Parishes feature their parish coat of arms instead.
These plates will be valid to use on any vehicle and will have the exception of being transferable among different vehicles of the original owner.
Historical plates
Edit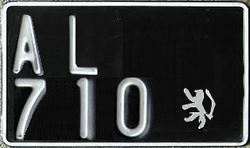 The first license plates appeared in 1900, all back with white text. These featured numbers only, issued in the order of registration. They were use until 1922, when alphanumeric plates first appeared (such as 415 - A).
License plate from 1918
License plate from the 1920s
A two-letter, three number plate system was introduced in 1946. These plates were different for sizes front and rear. featured a small lion symbol. The current two letter, four digit system was introduced in 1965, on long rectangular black plates. The colors were inverted in 1981 and used until 1999, when European-sized plates with a blue band, country code and 12 stars were introduced. These historic plates are still usable on the original historic vehicle.
Classic automobiles may be fitted with 1965-style plates for an added fee.