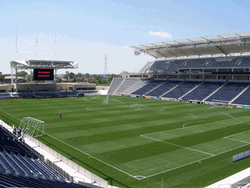 University Park is a football stadium and park located in Grijzestad. It is used by the Grijzestad Strijders and Grijzestad University sports teams, including Grijzestad University S.C. Both football teams are playing in the First League. The open-air stadium was built in 1948 by Lovian architects Adams and Fletcher. Originally seating 10,000 people, it was expanded to 22,000 spectators in time for the WFC 2012 championship.
With GUSC's promotion to the First League, plans were made to build a new stadium and reduce the size of this one for university usage.
Grijzestad RLFC, a rugby league team that currently competes in the Brunanter Rugby League currently plays at the stadium. They may also move to the Grijzestad Stadium.
Ad blocker interference detected!
Wikia is a free-to-use site that makes money from advertising. We have a modified experience for viewers using ad blockers

Wikia is not accessible if you've made further modifications. Remove the custom ad blocker rule(s) and the page will load as expected.