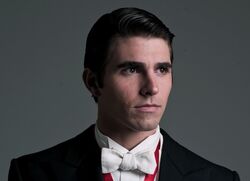 Steve Syracuse (born 1983, Grijzestad) is a Brunanter actor of Borderer descent.
Syracuse started acting at the age of 19, after the encouragement of his uncle Robin Syracuse, a fairly known stage actor. He initially played minor roles in several TV series.
Syracuse's first major role came with the 2004 action-crime hit History of a Mob Wife, playing all three of Charles Town Mob's McCaoinlin brothers. The versatile performance earned him his first award, for Best Supporting Performer at the Rosetown Film Festival.
In 2006, Syracuse successfully returned to his role as Barney McCaoinlin in the critically acclaimed TV series Small Town Crooks. Currently, he has a part in the television series Resistance, a prestigious war drama. He was recently cast in the thriller The Inside Job. In 2013, he starred in Edith van der Looy's A Dark Place and was nominated for the Barker Award for Best Actor.
Personal life
Edit
Syracuse is married to Martha van Damme and together they have one son, Richard.
Ad blocker interference detected!
Wikia is a free-to-use site that makes money from advertising. We have a modified experience for viewers using ad blockers

Wikia is not accessible if you've made further modifications. Remove the custom ad blocker rule(s) and the page will load as expected.