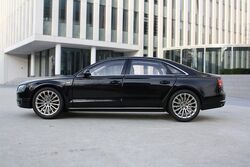 Brunant uses various state cars for the King, the President, Prime Minister and other members of the Royal Family. The standard car used is the Audi A8, which has been used by the government since 1995.
Royal family
Edit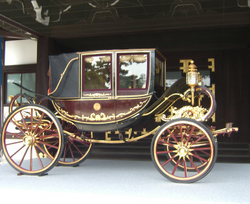 The Queen is given use of a 2011 Audi S8 Long wheelbase, customized for added security. Nicknamed "Queen 1/Koningin 1", this car is used for most formal and informal occasions by the Queen and Prince, and is given the license registration "1". Prior to the introduction of the A8, the family used Mercedes-Benzes. The queen will use a long-wheelbase Hampton President as her state car from 2016.
State Coach
Edit
The State Coach is the official ceremonial carriage used by the Royal family. Built in 1884 it has been used for special events like coronations, alongside other vehicles.
Royal garages
Edit
The Royal Garages in Koningstad host a collection of various other vehicles used by the Royal family, mostly for very special occasions. These include a 1929 Packard, a 1936 Martell-Werner landaulet and a 1956 Carona C8.
Government
Edit
The President and Prime minister are both allowed use of armored Audi S8's, or an S-class Mercedes-Benz as an alternate vehicle. Other important government officials use Audi A6's or Audi S4's.
Ad blocker interference detected!
Wikia is a free-to-use site that makes money from advertising. We have a modified experience for viewers using ad blockers

Wikia is not accessible if you've made further modifications. Remove the custom ad blocker rule(s) and the page will load as expected.