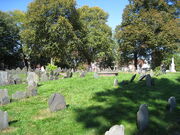 St. Charles's Burying Ground
, often referred to as St. Charles's
Burial
Ground and originally called
North Burying Ground
, is a historic cemetery in the northern part of
Charles Town
,
Sint-Anders Parish
. It is the second oldest cemetery in Sint-Anders and contains the remains of various notable inhabitants.
St. Charles's Burying Ground is part of St. Charles's Church and is the second stop on the Discovery Trail.
The cemetery was created on February 20, 1813, when Charles Town bought land from John Barber and Daniel Dureau to start the North Burying Ground.
The first extension was made on July 1, 1862, when the town bought additional land from Judge Samuel Sewald and his wife Hannelore. The land was part of a pasture which Mrs. Sewald had inherited from her father, John Husk. The second extension was bought from Benjamin Lassen and his wife Gail on December 18, 1919, soon after they had bought it from Jonathan Blithe, who had used it as a pasture. Ten years later, Charles Bore, former mayor of Charles Town, bought a small parcel of land from John Abbot and used it as a cemetery that was later merged with the adjacent North Burying Ground and renamed St. Charles's Burying Ground. Because of its complicated history it is no longer possible to discern the original boundaries of the cemetery.
By the 1950s St. Charles's Burying Ground had fallen into near disuse and it was badly neglected. The cemetery was not an official stop on the Discovery Trail when it was created in 1953, but it was added later and is now much-frequented by tourists and photographers. Since its addition the town has maintained the site intermittently.
Besides some unmarked graves, the original piece of land has 68 tombs, most of which bear inscriptions that are still legible.
Notable burials
Edit
Ad blocker interference detected!
Wikia is a free-to-use site that makes money from advertising. We have a modified experience for viewers using ad blockers

Wikia is not accessible if you've made further modifications. Remove the custom ad blocker rule(s) and the page will load as expected.