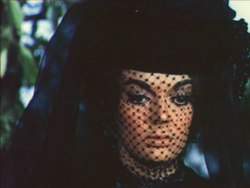 Silvia Samaniega (27 April 1926 - 2 December 2016) was a Brunanter actress with a career spanning over 60 years. She became well known following the release of the 1953 epic film The Three Days.
Biography
Edit
Samaniega was born to writer Sergio Samaniega and Elena Rosales in Sevilla, Spain. Following the Spanish Civil War, her family fled to Brunant.
Since the 1990s, she has taken on more supporting and cameo roles in films.
Samaniega died in 2016.
Personal life
Edit
Samaniega married actor James Gunn in 1950. They would have three children: Andrea (1951), Clara (1953) and Steven (1955). Gunn died during the Ambroos Station bombing in April 1977; in typical Brunanter style of the period she went into a long mourning, wearing a black dress and veil for nearly two years and refusing acting jobs.[1]
Filmography
Edit
↑

Up until the late 1970s a long mourning period and use of long black dresses and veils was very common.
Ad blocker interference detected!
Wikia is a free-to-use site that makes money from advertising. We have a modified experience for viewers using ad blockers

Wikia is not accessible if you've made further modifications. Remove the custom ad blocker rule(s) and the page will load as expected.