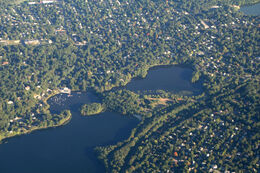 The Secret Lakes, consisting of Northern Secret Lake and Southern Secret Lake, are closely linked bodies of water in the northwest of the Sint-Anders Parish on Hogeberg Island. The lakes lie at an elevation of 1 meter above sea level.
The lakes were previously part of the drinking water supply for Charles Town and later Adamstown.
Geography
Edit
Northern Secret Lake suffers from contamination by arsenic and other heavy metals, yet the Secret Lakes remain popular for swimming, sailing and fishing.
Southern Secret Lake is a meromictic lake, which means that the lake has a deep layer of water that rarely, if ever, mixes with its top waters. As a consequence, the sediments at the bottom of this lake accumulate in annual layers that have been nearly undisturbed for a thousand years. Such layers in meromictic lakes preserve a historical record, much like tree rings do.
Secret Lakes DO
Edit
The Secret Lakes is a small yet very fertile region. Its terrain gives the local wine a deeper flavour and is highly enjoyed island-wide. The largest winery in the region is the Blue Caves Vineyard (belonging to Castelnau Wines), which produces some 2,000 cases a year. The Secret Lakes Estate produces around 1,540 cases. In 2002, the Secret Lakes region was made its own Designation of Origin (DO) and now has a protected status.
There is one locality in the DO, the eponymous Secret Lakes.
Ad blocker interference detected!
Wikia is a free-to-use site that makes money from advertising. We have a modified experience for viewers using ad blockers

Wikia is not accessible if you've made further modifications. Remove the custom ad blocker rule(s) and the page will load as expected.