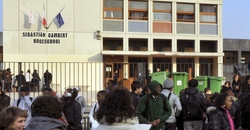 Sebastian Cambert College (Sebastian Cambert hogeschool) is a public college in the Inter District of Koningstad, named after baroque composer Sebastian Cambert. The school was built in 1973-74, and is fairly large. The school counts with a large lunch room, outdoor sports facilities, a small indoor gymnasium and an auditorium for presentations and concerts. The school uses Dutch as the main language of instruction.
The school was lightly damaged in 2010 when a student lit papers on fire in a bathroom, but has since been fixed. Despite the occurrence of incidents, the school has vastly improved academically.
Ad blocker interference detected!
Wikia is a free-to-use site that makes money from advertising. We have a modified experience for viewers using ad blockers

Wikia is not accessible if you've made further modifications. Remove the custom ad blocker rule(s) and the page will load as expected.