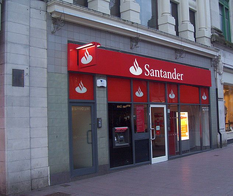 Santander Brunant is a bank in Brunant owned by Santander Group. As a part of Banco Santander, S.A. is the largest bank in the Eurozone and one of the largest banks in the world in terms of market capitalisation. According to Forbes Magazine Global 2000, it is the 13th largest public company in the world. It originated in Santander, Spain.
Santander Group entered Brunant in 2002 with the takeover of the ailing Koningstad Bank. This bank, founded in 1904 found itself in major financial difficulties in the late 1990s and was on the verge of collapsing. Santander purchased the bank for around €80,000,000 and soon started a massive reorganization of the company. Banks were rebranded "Santander" and new executives were brought in to stabilize the bank. Santander struggled in its first years but found success by 2005.
Santander Brunant is now one of the largest banks in the country with 212,000 clients, though thousands more European and British customers use their services as well.
Ad blocker interference detected!
Wikia is a free-to-use site that makes money from advertising. We have a modified experience for viewers using ad blockers

Wikia is not accessible if you've made further modifications. Remove the custom ad blocker rule(s) and the page will load as expected.