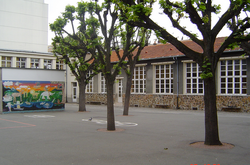 Samaniega Primary School is a public primary school in the Inter District, Koningstad, named after writer and painter Sergio Samaniega. The school was built in 1971 and was expanded in 1998. Samaniega Primary School has around 880 students, making it the largest primary school in Koningstad. The school's head teacher is Peter Dudic. The school uses Dutch as the main language of instruction.
As it is located in a less wealthy area of the city, the school faces challenges in regards to less funds and lack of new, good-quality equipment. Academically the school does not rank very high, but dedicated teachers have helped bring up the students' levels over the years. The school is currently having a dedicated gymnasium built.
Ad blocker interference detected!
Wikia is a free-to-use site that makes money from advertising. We have a modified experience for viewers using ad blockers

Wikia is not accessible if you've made further modifications. Remove the custom ad blocker rule(s) and the page will load as expected.