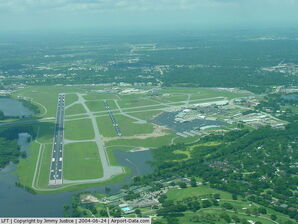 Rosetown Regional Airport (IATA: AUA - ICAO: N/A) is a small municipal-level airport located in Rosetown, Roseland Parish, beside the coast. The airport is primarily used by civil aviation, air ambulances, and private airlines. Oliver Hewton has a small airplane here (a Cessna) because he owns a country home nearby. For the dredging works and land reclamation, Libertan company Faber was hired to reclaim the land whereon the airport has been built.
Opened in 1939, it has been operated since then by the Roseland Transit Authority. Since 2000, the airport has been a center of controversy between community groups and Brunant politicians wishing to close the airport and the Roseland Parish government seeking to expand its usage.
Brunant Air and FlyBlue once stopped flying to ARA until a favorable compromise had been made not to close the airport. Brunant Air expected customers to complain, and directed customers to a complaint form to persuade authorities not to close the airport. Come Fly! did increase fares by 340% to make up for their start-up debt, however people simply boycotted Come Fly! in favor of the flag carrier. Amid the holiday travel period, the government has softened its stance on the issue, feeling that an airport is indeed useful; Large ferries do not operate in the Roseland-Central island route.
Operators
Edit
Ad blocker interference detected!
Wikia is a free-to-use site that makes money from advertising. We have a modified experience for viewers using ad blockers

Wikia is not accessible if you've made further modifications. Remove the custom ad blocker rule(s) and the page will load as expected.