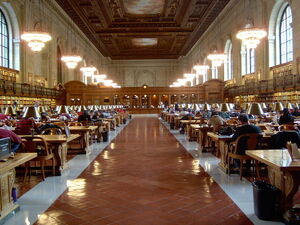 The Rosetown Public Library is located in Rosetown, Roseland Parish. The library has a collection of more than 150,000 items, including a historic printed Declaration of Independence from 1527. It has over 3,100 registered users, including Oliver Hewton.
Opened in 1955, it is operated by Public Libraries Brunant. The current chairman is Robert G. Andersen, who has held his posiiton since 2001.
Information and reference services
Access to full text databases
Community information
Internet access
Reader's advisory services
Programs for children, youth and adults
A visiting library service for the homebound
Ad blocker interference detected!
Wikia is a free-to-use site that makes money from advertising. We have a modified experience for viewers using ad blockers

Wikia is not accessible if you've made further modifications. Remove the custom ad blocker rule(s) and the page will load as expected.