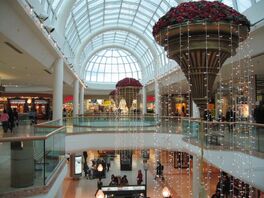 Rosetown Mall, formerly known as Grand Aurora Mall, is a shopping mall located in Rosetown, Roseland Parish. The mall is owned and operated by Rose Corporation since 2012, one of the largest shopping centre development companies in Brunant.
It opened in 1974, at which time its layout was a north-south arrangement with two sunken sitting areas surrounded by brick planters on the lower level. The mall underwent a major expansion in 1989-1990, and a further expansion with an additional 100,000 ft (30,000 m²) was officially opened on November 8, 2007.
On December 17, 2011, a Clark Properties spokesperson announced that it is considering putting the mall up for sale. A week later, the Clark Propterties entered into negotiations with the Rose Corporation over the transfer of mall ownership.
On February 23, 2012, the Mall ownership was formally transferred to the Rose Corporation.
There is a Marianne Bridal and World of Media store in the Rosetown Mall.
Ad blocker interference detected!
Wikia is a free-to-use site that makes money from advertising. We have a modified experience for viewers using ad blockers

Wikia is not accessible if you've made further modifications. Remove the custom ad blocker rule(s) and the page will load as expected.