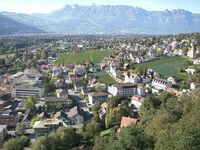 Rosetown is the capital and only formal settlement of Roseland Parish. The city is located on the northwest coast of Rose Island on the Mediterranean Sea, and has a population of 34,680 inhabitants (as of 2015).
Rosetown was founded in 1296 by Aragonese settlers as Narvas in 1296. It remained a small community, with only 5000 inhabitants by 1700. In the 1770s it came under the possession of the British. In 1911 it became the capital of the newly established Principality of Roseland. It was named after William Rose, who later became the first Sovereign Prince of Roseland. When the Principality of Roseland joined the Kingdom of Brunant, Rosetown became the newest town in Brunant.
Rosetown is one of the major industrial, and cultural centers in Brunant. It is also a popular tourist destination, known for its beautiful hilly surroundings and its warm subtropical coastlines and beaches. Rosetown has one of the highest quality of life in Brunant, and is one of the wealthiest municipalities in Europe, though certainly in Brunant. The Rosetown Sentinel is the newspaper in the city. The city is known for its many cultural events, including the Rosetown Film Festival.
Rosetown's countryside is especially known for its apples and orchards, with their fruit the best in Brunant.
Government
Edit
The latest elections were held in 2016. Giulio Conti was elected mayor, repalcing Daniel Hopkins.
Rosetown Government

Party
Seats
SDP
CDU
ABB
GP
FLP
SLP
Rosetown is home to two football clubs, Aurora F.C., who currently play in the Second League and AFC Rosetown, who play in the Western League Division 1. Rosetown RLFC, a rugby league team that competes in the Brunanter Rugby League, is also based in Rosetown.
See the page Map colors for an explanation of what each color means.
Rosetown Beach
Mediterranean Sea
1 - Prince Edward Street
2 - Barker Street
Settlements in Brunant
Adams:
Cities, towns and villages: Adamstown • Middleton
Localities: Elsing • Fontanet • Hindon • Starford
Brunant:
Cities, towns and villages: Brunantstad • Martensdorp • Swantown
Localities: Silvana
Cape Cross
Cities, towns and villages: Brezonde • Cape Cross • Koningstad
Localities: Alt-Vermel • Bacena • Belmont • Denia • Geitstand • Grisant • Havery • Iban • Mercurius • Newbury • Penalmont • Portin • Prinsenberg • Ravels • Santa Tereza • Sant-Felix • Swintley • Wiets
Carrington:
Cities, towns and villages: Carrington • Niesburg
Localities: Belcava • Bryonia • Castle Baily • Castramont • Cowlton • Henley • Loudon • Santa Maria nal Camp • Santpeter • Stanford • Vianna
Central:
Cities, towns and villages: Boguestown
Localities: Acrine • Barnbrook • Berganz • Bowington • Cornel • Limes • Lincoln • Littles • Newell • Ristley • Tindall
Chester:
Cities, towns and villages: Chester • Grijzestad
Localities: Aramore • Carelsdorp • Carron • Campen • Finland Groves • Kleinebeek • Limburg • Noordendal • Oudeklooster • Roster • Varsenare
Drenthe:
Cities, towns and villages: Drenthe • Sint-Hendrikstad
Localities: Alba • Annandale • Arstad • Bi • Blancart • Blanden • Caster • Cortesem • Hamme • Heusal • Holsbeck • Kirkenberg • Lagermarkt • Loven • Marken • Newdowns • Nieuwbergen • Nieuw Friesland • Nieuw Girona • Oosterhaar • Orust • Paterswolde • Pietersdorp • Pleinlouis • Polpis • Salbes • Simonshaven • Sint-Anders aan Martiges • Trier • Vreise • Wilmarn • Zuidendorp • Zwartdorp
Helmond:
Cities, towns and villages: Nieuw Helmond • Roodstad
Localities: Alzar • Brandis • Carante • Cardon • Gessel • Haren • Issen • Perbe • Pyrmont • Sint-Elisa • Tangres
Mariaberg:
Cities, towns and villages: Donderstad
Localities: Bussot • Caborna • De Weg • Huisreal • Mariaberg • Portela • Ravaner • Roures • Sint-Laurens • Venetie • Zouter
Roseland:
Cities, towns and villages: Rosetown
Localities: Aurora • Ingley • Narvas • Witney
Sint-Anders:
Cities, towns and villages: Charles Town • Grunbeck • Sint-Anders
Localities: Ambrosian Hills • Bergantin • Berslet • Boskerk • Cavell • Listan • Littlehampton • Olivers Lane • Secret Lakes • Tourford
Sint-Willemstad:
Cities, towns and villages: Sint-Willemstad
Localities: Benicar • Domenech • Gardes • Hanenberg • Isabelle • Kapeltoren • Martiges • Milde • Mondier • Rosselare
Ad blocker interference detected!
Wikia is a free-to-use site that makes money from advertising. We have a modified experience for viewers using ad blockers

Wikia is not accessible if you've made further modifications. Remove the custom ad blocker rule(s) and the page will load as expected.