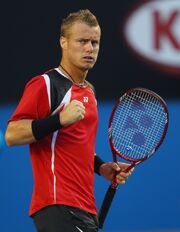 Robert Hewton (29 October 1976 in Koningstad) is a famous Brunanter tennis player. He was born to the Brunanter actor Oliver Hewton and his former grilfriend Angeline Morris. Hewton was a natural tennis player and began a profesisonal career in the early 1990s. He became one of the best in Brunant (number 1) by 2003 but several injuries led him to retire in 2007. He returned in 2009 but is not in his best form. 
Hewton won the USB Brunant Open in 2004 but since then has only made it to the quarter-finals once, in 2005.
Hewton was engaged to champion runner Vicky Lewis in 2005. They separated in 2008 but were married in 2011 in Las Vegas. They live in Grijzestad and have a vacation mansion in Maple Hills, Libertas. He was runner-up in the Contra Trophy; a ATP tournament in Libertas, when he lost the finals of the Spanish player David Ferrer.
Hewton announced his retirement from tennis in early 2013.
Ad blocker interference detected!
Wikia is a free-to-use site that makes money from advertising. We have a modified experience for viewers using ad blockers

Wikia is not accessible if you've made further modifications. Remove the custom ad blocker rule(s) and the page will load as expected.