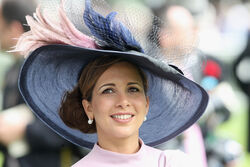 Princess Rima (Rima Ghali, born 2 June 1966) is a Brunanter princess of Egyptian origin.
Biography
Edit
Early life
Edit
Rima was born to Fathia Ghali, daughter of King Fuad I, and Riyad Ghali in California in the United States, where she grew up. She has three older sisters. Her parents divorced in 1973 and her father tragically killed her mother while drunk in 1976. Rima arrived in Brunant by chance as she was accepted to the political science program at Grijzestad University before her other applications. She came to Brunant in 1984 and graduated with high marks in 1988. After a few years of working at a law office in Koningstad, she got her citizenship and a job at the Brunanter government. In 1997, she joined the Brunanter delegation to the United Nations.
Rima met her future husband, Prince Hendrik, in 1999 at a dinner event in Koningstad. The couple announced their engagement in March 2000 and they were married on 22 March 2001. They have two daughters:
Miranda Van Draak, born 10 August 2001
Nadia Van Draak, born 24 November 2005
Hendrik is the eldest child of Princess Angela, a daughter of King Marten II. The prince has another daughter from his previous marriage, Juliana Van Draak.
Later career
Edit
Princess Rima was selected to become Brunant's ambassador to the UN in 2008 and the family moved to New York that year. The coupe still returned to Brunant to visit their fmaily and in her time here, the princess helped out in various charities, often with Prince Berthold, another royal. It was announced in early 2011 that the princess planned to retire from her job by late March 2012. Since then, she has been working at the Department of External Affairs.