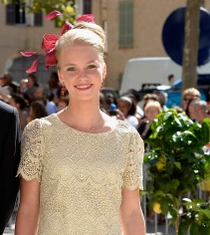 Stephanie Elisabeth van Draak (born 3 March 1995, Koningstad) is a Brunanter princess and is tenth in line to the throne, as The Queen's cousin.
Biography
Edit
Stephanie was born to Prince Wilhelm and Princess Leonore and is their second child. Her siblings are Prince Karl and Princess Brigitte. The princess did her schooling in Koningstad. She is presently studying Environmental science at the Royal University of Koningstad and is planning to go into water management.
She is became engaged to Prince James, a Kemburger royal. Both study at the RUK. The prince and princess met at the university and began their relationship in 2013, according to the media. The couple announced their engagement on 21 February 2014.
Stephanie and James were married on 16 November 2016 in Kemburg. Her maid of honor was friend Charlotte Wever, and the other bridesmaids included Princess Brigitte (her sister), Marcela Basile (groom's cousin) and Princess Marianne (her cousin).