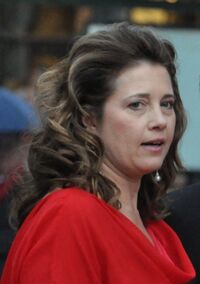 Princess Marie of Brunant (Marie Aleksandra Van Draak, 2 March 1955) is a Brunanter princess and the sister of King Anthony I.
Biography
Edit
Early life and education
Edit
She was born to King Marten II and Queen Aleksandra of Brunant in La Spezia, Italy 1955, as her father was posted to the naval base there. She has one daughter, Princess Amalia. She was baptised at St. Peter's Church, with her godparents being Marshal Frederick Schiller, Prince Axel of Denmark and paternal aunt Princess Martina Louisa.
As was common with wealthier families of the period, Marie had a nanny, Clarissa Berger, and a governess, Emma Foletti. In his early years he was taught in the palace but in 1960, along with her older brother, was sent to an actual school in the city. In 1967 she was sent to the prestigious public Ambrosian College, graduating first in her year.
She studied at the Royal University of Koningstad and spent a semester at Noble University in Lovia.
In the late 1970s she was romantically linked to Captain Eric de Wever, a friend of her brother, but nothing ever came out of the suspected romance.
While studying in Lovia, she became romantically involved with William Van Draak, a professor's assistant at the university and a second cousin (they share a grandfather in King Pieter II). William came to visit Marie in 1977 and began to court her, and after an engagement in March that year they were married in September.
In September 1978 she gave birth to a daughter, Princess Amalia. In 1980 she became pregnant again but suffered a miscarriage.