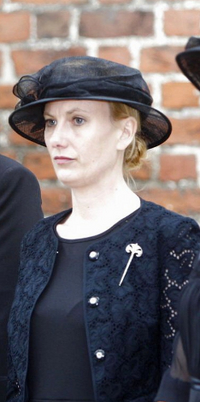 Leonore Kristen Birkeland (born 25 June 1968) is an Insel-born Brunanter princess and former television host. She is the wife of Prince Wilhelm, son of King Marten II.
Biography
Edit
Kristen Birkeland was born in Wikiborg, Inselöarna to Norwegian-born Anders Birkeland (1935-2018) and Insel-born Katarina Tegling (born 1937). She was their only child.
At the age of 6, Leonore and her family moved to Björnby (Leonore would become a big fan of local club Björnby SK with her father and she has a cousin, David, playing for the club). Birkeland studied journalism at the Royal University of Koningstad in Brunant from 1987 until 1991, while hosting the show Celebrity Gossip.
Marriage and children
Edit
Birkeland met Brunanter Wilhelm Van Draak in 1988 for an interview with Celebrity Gossip. He is a prince, the youngest son of King Marten II and Queen Aleksandra. The two began seeing each other more often and on 19 September 1990, the couple were married in a religious ceremony in Wikiborg. Upon her marriage with Wilhelm, Leonore became a Brunanter princess. She is a sister in law of former King Anthony and an aunt of Queen Helene.
Prince Wilhelm and Princess Leonore have three kids together:
They currently live at Huis ten Bergen near Donderstad with their youngest child, Princess Brigitte