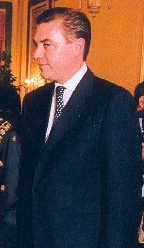 Wilhelm David van Draak (4 August 1959) is a Brunanter Prince, an uncle of Queen Helene.
Prince Wilhelm was born in Donderstad to King Marten II and Queen Aleksandra in 1959. He was an excellent student in school, and wanted to become a doctor. He studied at Johns Hopkins University in the United States and eventually became a doctor for the Royal Family. In 1990, he married Princess Leonore, an Insel television reporter. They have three kids together; Prince Karl (1990), Princess Stephanie (1995) and Princess Brigitte (2005). They live at Huis ten Bergen, near Donderstad.
There were some issues between Wilhelm and his mother over his choice of bride, but they were never very big.
Ad blocker interference detected!
Wikia is a free-to-use site that makes money from advertising. We have a modified experience for viewers using ad blockers

Wikia is not accessible if you've made further modifications. Remove the custom ad blocker rule(s) and the page will load as expected.