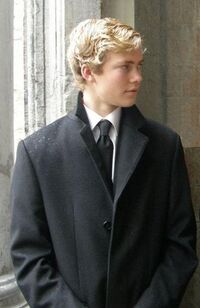 Prince Karl (Karl Pieter Van Draak), born 4 April 1990, Dortmund is a Brunanter prince and is tenth in line to the throne. He is known to have a good interest in football and supports Dortmund SFC. He currently lives in Hillside, Brunantstad at 8 Centralstraat with his wife, Princess Elizabeth of Lovia.
Biography
Edit
Early life
Edit
He is the eldest child of Prince Wilhelm and Princess Leonore. He is a nephew to King Anthony I. He has two younger siblings, Princess Stephanie and Princess Brigitte. The Prince did his schooling in Koningstad.
From 2008 to 2012, Karl studied at Blackburn University in Lovia, specializing in architecture and urban planning.
Post-university
Edit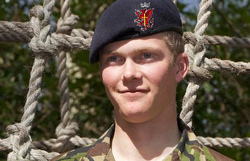 In 2012 he became employed as an architect's aide in Noble City. Upon returning to Brunant he did the same until becoming a drafter, working in such a position until 2015. He then joined the Brunantstad government, to work on their urban planning and works offices.
In early 2013 he joined the Royal Guard as a reservist, joining as an intelligence officer. He served with the military until the summer of 2016, retiring as a Captain.
Relationships and marriage
Edit
He was dating the actress Adriana Rand but they have long broken up.
There are rumors that he is dating the Lovian Princess Elisabeth, but there has been not a hint by the prince as to this being true. The two were later spotted in a Noble City coffee shop and the media is speculating that they are intent on keeping their relationship low-key. In April 2012 a source close to the couple revealed to the media that they were living together in Noble City and on August 2 the pair announced their engagement after Prince Karl proposed.
Karl and Elisabeth were married in September 2013 at St. Sebastian Church in Koningstad and are living together.
Ad blocker interference detected!
Wikia is a free-to-use site that makes money from advertising. We have a modified experience for viewers using ad blockers

Wikia is not accessible if you've made further modifications. Remove the custom ad blocker rule(s) and the page will load as expected.