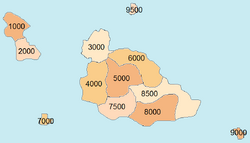 Postal codes were introduced by Brunants Post in 1970. The public was not too keen on using them and it took a large campaign to get it to widespread use by the mid 1970s. Postal codes have now become the norm for mailing letters in the country.
List of postal codes
Edit
Berrio 0100
Chester Parish 1000-1999
Sint-Anders Parish 2000-2999
Cape Cross Parish 3000-3999
Helmond Parish 4000-4999
Central Parish 5000-5999
Carrington Parish: 6000-6999
Adams Parish 7000-7499
Mariaberg Parish 7500-7999
Sint-Willemstad Parish 8000-8499
Drenthe Parish 8500-8999
Brunant Parish 9000-9499
Roseland Parish 9500-9999
Sample address
Edit
Constructing a postal code is really simple. Postal codes are based on 4-digits, but susually for numbers 1000-9000 the 0 is not added beforehand. The first digits (first or second) denote the parish and the following two or three digits denote the city, town, neighborhood or quarter of the city.
JAN JANSEN

123, NICOLASSTRAAT

2000 GRUNBECK
JANE DOE

1000, MANCHESTER STREET

3190 CAPE CROSS
Ad blocker interference detected!
Wikia is a free-to-use site that makes money from advertising. We have a modified experience for viewers using ad blockers

Wikia is not accessible if you've made further modifications. Remove the custom ad blocker rule(s) and the page will load as expected.