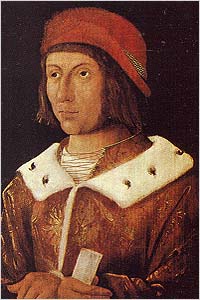 Louis-Philippe Gilmart de Bryas (1378-1454) was a Brunanter politician and a Founding father.
Biography
Edit
His father was Pierre-Henri Gilmart de Bryas, a nobleman from Brias who moved to the Artois region. His mother was Bertha van Eijck, a Brabanter woman. De Bryas lived in Artois until about 1410, where he served in the County government. He would later move to Bruges to make his fortune.
In Brunant
Edit
Having inherited his father's vast estates around 1415 he moved to settle in the south of Brunant Island (in modern day Brunant Parish). It appears that around the early 1420s the Venetian authorities began to harass him and demanded he assist them in subduing the Dutch. Having a deep resentment of the Venetians for bothering him, he turned to help the Dutch, and even founded a cavalry regiment (the Cuirassiers de Bryas). In 1427 he was one of the men who attended the Convention of Grijzestad and signed the Declaration of Independence. In 1431, the the young republic made him Minister naar Nederland (Minister to the Netherlands), an important post roughly equivalent to ambassador. De Bryas served in that charge until 1435 when he returned to Brunant. He died in 1454 of old age.
He married a Brunanter woman in the 1410s and had three children (two daughters and a son, Louis). His daughters died before him and his son died childless.
Ad blocker interference detected!
Wikia is a free-to-use site that makes money from advertising. We have a modified experience for viewers using ad blockers

Wikia is not accessible if you've made further modifications. Remove the custom ad blocker rule(s) and the page will load as expected.