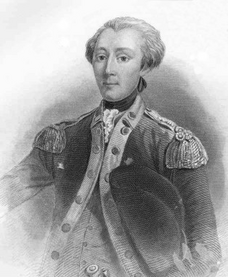 Philip Eckstein
(1712-1767) was a
Brunanter
military commander and a
Chief Minister
 in the mid-18th century.
Biography
Edit
Eckstein was born to a middle-class family in Grunbeck. Around 1735 he joined the Royal Guard in the artillery unit. Initially placed at Slot Grunbeck, he was by 1754 the commander at Grijzestad Citadel. During the Franco-Brunanter War, he was in command throughout the yearlong Siege of Grijzestad, successfully defending the fort and the town. When the siege was lifted in mid-1758, he was hailed a hero by the townspeople. Eckstein would later command forces which helped liberate the island, and he would be in charge of the successful siege of Markstad Castle in 1758. The king, Pieter I, would later honor Eckstein by making him Marshal of the Royal Guard, and he was made a baron for life (Baron Eckstein). In 1760 he was made Chief minister (a predecessor to the post of President). He occupied that role from 1760-62, May-August 1764, March 1765-September 1766 and in early 1767. Frequent disagreements saw him dismissed four times. In October 1767, Eckstein died from a terrible fever.
Eckstein married Elisabethe Holt (d. 1747) in 1743 and had a daughter, Caroline. Elisabethe died in 1747.
In 1760 he married Princess Brigitta (1739-1804), the eldest daughter of Pieter I. They had 4 children:
Carlotte (1761-1828)
Johannes (1763-1784), was killed at the Battle of Grijzestad in 1784
Greta (1765-1832)
Silvia (1765- c.1800)
After his death Brigitta married Prince Adriaan Holten from Libertas.
Ad blocker interference detected!
Wikia is a free-to-use site that makes money from advertising. We have a modified experience for viewers using ad blockers

Wikia is not accessible if you've made further modifications. Remove the custom ad blocker rule(s) and the page will load as expected.