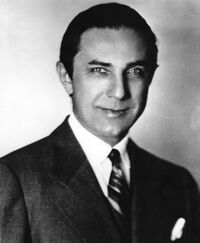 Oscar Karmann (5 December 1912 - 7 December 1990) was a Brunanter stage, film and television actor. He was famous for playing the role of monsters and villains, thus earning him the nickname "King of Horror". With a career spanning over half a century, Karmann played in almost fifty movies and TV shows.
Karmann was born in Brunantstad to a family hailing from Plzen, Austria-Hungary. He began acting in the late 1930's on stage plays and in 1949 appeared in his first movie role in the minor film The Count.
By the 1950s he became a largely mainstream actor and was notable for leading and supporting roles in It Came From Planet 68 (1956), Monster Hospital, both the film (1963) and the TV series (1964-66), The Lovebird (1969), and Thaumaturge (1989).
Karmann died in 1990 from heart attack, just two days after his birthday.
Controversy
Edit
There was controvery attached to Karmann since it appears he collaborated with Nazis in during WWII. Many held a strong sentiment against him, even though his dealings with the Nazis were minimal.
Pop artist Gabriel Blanchard would later do a portrait of him entitled "Devil in Disguise". Karmann was not amused at this "mockery", but the painting was displayed at the Modern Art Gallery of Grijzestad quite successfully and was later sold for Th. 100,000.
Personal life
Edit
Karmann was never married though he was linked to various prominent women in his time. He had two daughters with a sales clerk from Angora, both of which live in France.
Selected filmography
Edit
Year(s)
Title
Role
Notes
1949
The Count
Boudewijn
Film debut
1952
The Dark Alley
Edwin
One of the few leading hero roles of Karmann
1954
Flaming Arrows
Johannes
The Open Gate
Dark King
1956
It Came From Planet 68
Lead Alien
Karmann's first work with Herbert S. Hosen
1957
Fatal Hour
Elbert van Galen
1959
Tragic Day
Mr. Sweers
Betrayed
Cornelis van Nes
The Smoker
Shlomo
1960
The Zombies From Planet 68
Lead Zombie
1963
Monster Hospital
Dr. Frank N. Stein
Karmann's first comedy film
1964-66
Monster Hospital
Dr. Frank N. Stein
TV series
1965
Septimus: The Invincible Swordsman
Sextus Julius Sabinus
Karmann's first film with Paul Riesner
1969
The Lovebird
Colonel Totenbringer
1970
The Last Temptress
President Nero
The Ingrate
Cecil Harron
1972
Full Moon Massacre
Jacobus Morto
1981
V for Vengeance
Dr. Pervers
1989
Thaumaturge
Skelan, Duke of Torild-Honess
Karmann's last film
Ad blocker interference detected!
Wikia is a free-to-use site that makes money from advertising. We have a modified experience for viewers using ad blockers

Wikia is not accessible if you've made further modifications. Remove the custom ad blocker rule(s) and the page will load as expected.