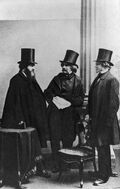 Old Adams Corner is a historic building in Charles Town, Sint-Anders Parish, located at the corner of Adams Street and Patrickson Avenue, the seventh stop along the Discovery Trail.
The site of Old Adams Corner was formerly the home of Anne Dunton, who was expelled from Sint-Anders in 1792 for heresy.
The building itself was constructed in 1829 by Thomas Crimp as a residence and apothecary shop. From 1847 to 1864 it was home to Arkansas & Meads, a publishing company founded by antiquarian and lawyer Wilmer Arkansas, later renamed when he partnered with writer-editor James T. Meads. For part of the nineteenth century, the firm was one of the most important publishing companies on Hogeberg Island and their bookstore became a meeting-place for some famed authors like Nathaniel Maythorne. Arkansas and Meads rented out the whole building, using only the corner for a retail space. The other sections of the building, particularly upstairs rooms and storefronts facing Patrickson Avenue, were in turn sublet to other businesses. After the death of Arkansas, Meads wanted to focus on publishing rather than the retail store. On November 12, 1864, he sold the site, and Arkansas & Meads moved. A succession of other booksellers and publishing houses, such as Token Books, followed them up in the building.
Threatened with demolition in the 1960s, the building was 'rescued' through a purchase by Charles Town, as part of its program to rehabilitate historic and culturally significant properties so they are a usable part of the village's present and future.
In recent times the Old Adams Corner's retail space has held a branch of the Cosmos Bookstore, which operated there from 1982 to 1997. A national discount jewelry chain, Ultra Diamonds, operated in the building from 1998 till the company's bankruptcy in 2005. In January 2005 the band The Towners rented it to record the largest part of their album Jubilee. Then the space was briefly used as a showroom for local crafts.
As of 2011 a tourist shop occupies Old Adam's Corner, selling Charles Town products and Discovery Trail memorabilia.
Ad blocker interference detected!
Wikia is a free-to-use site that makes money from advertising. We have a modified experience for viewers using ad blockers

Wikia is not accessible if you've made further modifications. Remove the custom ad blocker rule(s) and the page will load as expected.