The Kingdom of Brunant celebrates ten official national holidays throughout the year. On these days, people are not required to work. Some holidays like Mardi Gras or the Parade of the Dead is a holiday in some parishes, and Armistice day is observed with a minute of silence, but is not a public holiday. Throughout Chester and Sint-Anders Parish, people will celebrate the Parade of the Dead and in late June it is customary to celebrate St. John's Feast.
| Holiday | Date |
| --- | --- |
| New Year's Day | January 1 |
| Three Kings' Day[1] | January 6 |
| Easter (Good Friday) | varying |
| Easter Monday | 1st Monday after Easter |
| Liberation Day | April 13 (or following Monday) |
| May Day | May 1 |
| Independence Day | June 9 |
| St. John's Feast | June 24 |
| All Saints Day | November 1 |
| Christmas | December 25 |
Holy Week
Edit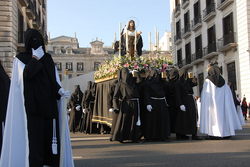 Eastertime is marked by the obervance of masses, many holy week processions and the eating of certain foods. Most communities in Brunant hold large easter processions, on Easter Friday and often on the Thursday and Sunday. In most of Brunant, this is characterized by a parade of religious symbols, like crosses, statues of Christ and the Virgin Mary. Cloaked men in black and white hoods often carry crosses in the procession. In Hogeberg Island (Sint-Anders, Charles Town, Grijzestad, Grunbeck) and Middleton, the processions are centered around a "Christ figure" bearing the cross, men dressed as roman soldiers and (traditionally) women throwing flowers in front of the path to "Chist".
Jezusbrood and fish are especially consumed during this period, and meat is generally not eaten.
Christmas and Three Kings' Day
Edit
The majority of Brunant's Christmastime traditions are influenced by Spanish tradition. It is customary for families to make a pesber (a nativity scene). Desserts such as Nougat/Touron and Christmas cakes are popular during this time. The Christmas dinner is usually one of the largest meals of the years, held late on Christmas eve with friends and family. Father Christmas brings presents on Christmas day.
On Three Kings' Dayit was traditionally customary for the local priest to lead a procession to welcome the kings though this is not practiced everywhere. Children clean their shoes and leave them out the eve before in the hopes of getting a small gift or sweet inside.
↑

Known as Driekoningen in Dutch and Eus Tres Rijes is Brezondian.
Ad blocker interference detected!
Wikia is a free-to-use site that makes money from advertising. We have a modified experience for viewers using ad blockers

Wikia is not accessible if you've made further modifications. Remove the custom ad blocker rule(s) and the page will load as expected.