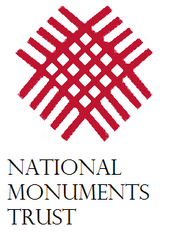 The National Monuments Trust is a Brunanter government organization under the Department of Cultural Affairs tasked with overseeing the administration of Brunant's national monuments. It is also part of the IWO Heritage group.
In Brunant, National Monuments can consist of buildings, structures and other man-made constructions, or natural and joint natural-historic sites that are considered important to the country. All monuments are administered by the Department of Cultural Affairs via the National Monuments Trust.
The current head of the NMT is Cynthia Niemens, daughter of Royal University of Koningstad President Gerard Niemens.
The preservation of state-owned property became an increasingly important issure from the late 19th century on. The first big move towards conservation was the creation of the National Buildings Trust in 1914 to administer state property. After 1918, its focus was directed towards heritage buildings. In 1920, it was renamed National Monuments Trust and the Brunant Markethall was designated the first National Monument that year.
To date, there are over 30 monuments including buildings, monuments, structures, ruins and other sites.
The National Monument Trust is the government's principal advisor on all matters pertaining to national heritage and history. The NMT is responsible for:
Directly managing the national collection of sites and monuments in Brunant
Handing out grants towards to protection and conservation of monuments under private ownership
Advising the government on policy towards monument conservation and addition to the trust
Selection criteria
Edit
Monuiment candidates have to be at least 50 years old to become selected, though certain exceptions may apply. Monuments are ranked as:
Historically significant: the monument is of historic importance and has had significant event(s) occur in it
Culturally significant: significant for social and cultural reasons
Architecturally significant: its design is unique and beautiful which merits protection
Natural: ecological significance or extremely pristine nature
List of Monuments by parish
Edit
Ad blocker interference detected!
Wikia is a free-to-use site that makes money from advertising. We have a modified experience for viewers using ad blockers

Wikia is not accessible if you've made further modifications. Remove the custom ad blocker rule(s) and the page will load as expected.