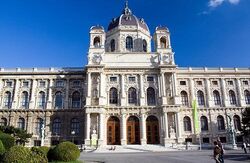 National Military Museum is a national museum in Grijzestad. The museum is about the history of war in Brunant (and Europe), remembering the soldiers of past and promoting peace. It is part of the National Museums Group.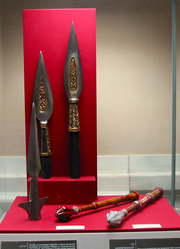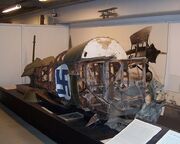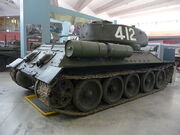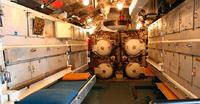 In 1882, the Royal Museums Trust (now NMG) was donated a significant amount of military artifacts and weapons. Given that the State Museum did not need so many military items and that the weapons were based in Grijzestad, it was decided to make a military museum there, especially as the centenary of the last battle in Grijzestad was coming up.
The building, in the Old Town, was built from 1882 to 1885, but was opened in November 1884 to the public. The museum building was expanded with new wings from 1918 to 1920 to house an expanding collection.
Collection
Edit
The museum collection is rather varied and features all sorts of interesting items. Some of the best permanent exhibits include a Soviet T-34 tank, the wreckage of a German and British World War II plane shot down over Brunant, the gun which fired Brunant's first shot in World War I and the bell and cannon from the R.S. Niesburg.
The museum covers seven sections, four on the first floor and three on the second.
The first section is Ancient Warfare in Brunant, covering the late Roman and early Medieval period. This section contains a Roman shield, a horde of sunken Arabian swords stuck to a rock and the remains of the first military chronicle of Brunant, in Arabic.
Visitors head next to Independence and Civil War section, which covers Brunanter history from 1427 to 1663. This area contains such items as Leuvis Van Damme's helmet and a variety of weapons from the Brunanter Civil War,
Other section include War in the 18th century (Franco-Brunanter War and Carrington's Invasion), the Napoleonic Wars, World War I and World War II. In the museum's basement there are three main areas: a section devoted to Brunant and Peace, a small exhibit on military art and a large hall containing a variety of military vehicles and large guns. This one includes tanks, cannons and "Inside a Soviet Submarine", which visitors can enter and see how a submarine looks like.
Visiting the museum
Edit
The museum is open Tueday to Sunday from 10:00 to 18:00, being closed on holidays as well. Admission fees for the museum are €10/adults, €8/children and €7/elderly. A personal or family pass can be purchased for €100/€170, which is valid for 1 year. ExploreBT cardholders are also able to visit the museums free of charge.
Ad blocker interference detected!
Wikia is a free-to-use site that makes money from advertising. We have a modified experience for viewers using ad blockers

Wikia is not accessible if you've made further modifications. Remove the custom ad blocker rule(s) and the page will load as expected.