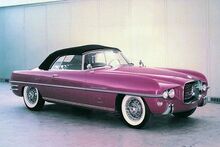 The National Automobile Museum is a museum located in Charleston Beach, KS. It has the largest automobile collection in Brunant. The musuem is mainly centered around cars, but it also has motorcycles and other wheeled vehicles.
Visit the museum
Edit
The museum is open Tueday to Sunday from 10:00 to 18:00, being closed on holidays as well. Admission fees for the museum are 10€/adults, 8€/children and 7€/elderly. A personal or family pass can be purchased for 100€/170€ which is valid for 1 year. ExploreBT cardholders are also able to visit the museums free of charge.
Ad blocker interference detected!
Wikia is a free-to-use site that makes money from advertising. We have a modified experience for viewers using ad blockers

Wikia is not accessible if you've made further modifications. Remove the custom ad blocker rule(s) and the page will load as expected.