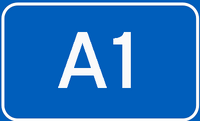 Brunant has a number of motorways on five different island. They have often more than two lanes and have speed limits of over 100 kph. Motorways are categorized in A-leveled and B-leveled motorways.
Major roads in Brunant were historically two-lane, from the medieval roads of the 14th century to the mid 20th-century. What is now the major A1 road was first built from 1949 to 1951 as the Autoway, the longest paved road, connecting five major towns and cities, though still only two lanes. Many others were still unpaved and not very well maintained.
The system of paved, divided highways began work in 1968, with the A1 being remodeled as a controlled-access motorway by 1971.
A-level motorways
Edit
A-level highways are routes that have a high volume of traffic and are frequently used. A-roads have controlled access, meaning they do not directly intersect or merge with other roads. There are only three of them: the A1 (Cape Cross-Koningstad-Niesburg-Sint-Willemstad), the A2 (Grunbeck-Charles Town-Sint-Anders and the A3 (Chester-Grijzestad-Grunbeck). These highways have a 120 kph top speed, although the A1 had speeds of up to 165 kph in certain areas until 2017.
B-level motorways
Edit
B-level highways are minor highways that are found around Brunant. These often have only two-lanes/sides and are limited to 100 kph. B-level roads are normally two-laned, though may have certain trajectories with four, such as on the B4.
National Routes
Edit
National Routes are the third-level roads in Brunant. These are among the oldest in Brunant, some dating to the medieval period. These are all two-lane roads and are slower yet more scenic than the modern motorways.