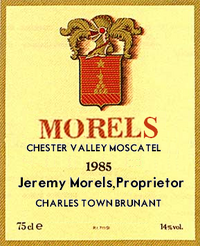 Morels is a Brunanter winery based in the Ambrosian Hills region of Sint-Anders Parish, in the Chester Valley. Their moscatel and listan wines are considered among the best in Brunant.
Morels was founded in 1965 by Jeremy Morels, a Franco-Brunanter winemaker. He led Morels from a small winery to the fourth largest in the country. His wines are considered among the best in the country and are consistently rated 85-90 points by experts. In 2011, Morels was the fifth-largest producer of wine in Brunant with 3910 cases of wine produced. Morels' 2010 Grand Listan was awarded the gold medal for "best wine" by Lovian experts Wine Tasters, besting wines from other nations like Libertas and Lovia.
The best Morels vintage was the 1985 Listan (97pt. rated), which sells for upwards of €300. Other famous vintages are the 1969 Morels Listan and the 2010 vintage, selling for €58. Morels is the house wine in the restaurant Elcano in Traspes.
Morels Red Printanier: €10
Morels Moscatel Fort: €25
Morels Moscatel (white): €28
Morels Listan: €30
Morels Grand Listan €45
Ad blocker interference detected!
Wikia is a free-to-use site that makes money from advertising. We have a modified experience for viewers using ad blockers

Wikia is not accessible if you've made further modifications. Remove the custom ad blocker rule(s) and the page will load as expected.