This page or section is a work in progress.
You are welcome to help in its construction by editing it as well.
If in doubt, please contact the most recent editor, Wabba The I.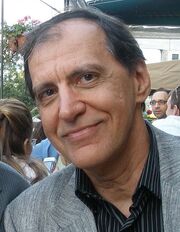 Michel Bircamp (28 March 1950) is a Brunanter television and film actor. A rather selective actor, Bircamp is best known for his dramatic roles in films such as The Crimson Blouse (1980) and The Network (1997). He is the eldest son of the famous actor Anatole Bircamp.
Bircamp was born to actor Anatole Bircamp and his first wife, model Roxanne Harris. His parents separated a few months after his birth and thus Bircamp lived with his mother in Rosetown. Bircamp was accepted at the Royal Academy of Dramatic Arts in Koningstad, which attended for three years.
Personal life
Edit
Filmography
Edit
| Year(s) | Title | Role | Channel | Notes |
| --- | --- | --- | --- | --- |
| 1999 | Resistance | SS Colonel Dietrich | BBN | Bircamp appeared in all five episodes before the season was scrapped mid-way |
| 2007 | Small Town Crooks | Mickey Dolan | BBN | Two episodes |
| 2011-present | The Hard Years | Jedediah Bogart | BBN | |