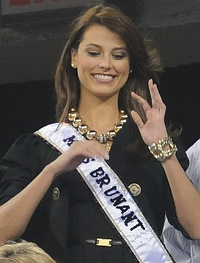 Martina Belmont Rivas (born 1990, Brezonde) is a Brunanter model, actress and the 2011 Miss Brunant.
Biography
Edit
Belmont was born to a Barzuna father and his Colombian wife, who was born in Cali. She went to school in Brezonde and in 2008 entered the Royal University of Koningstad to study business administration.
In 2011 she was one of the participants in the Miss Brunant Contest, representing Cape Cross Parish. She went on to win the pageant. In late 2011 she was cast in her first movie role (for The Inside Job). She will also co-star in the up-coming political drama, Election Day.
She is currently acting in comedy series Culture Shock, playing the role of Denisa Rubi.