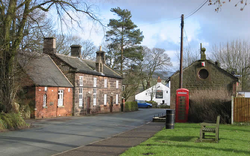 Martensdorp is a partly-new village in Brunant. It is located in Brunant Parish, founded in 1904, when the B10 motorway was being built on Brunant Island. It has most of its houses clustered around the A4. The population of Martensdorp was estimated to be 54 in 2015.
The most famous and largest building is the Marten House, currently serving as the town hall of Martensdorp. Both the village and the house are named after Marten Sneijder.
Government
Edit
The first mayor was James Stanton (Christian Democratic Union). Its current mayor is Matt Wostor (Green Party). Before Stanton, only councillors were appointed to take on the duties of the mayor; despite having village status, the population was not large enough for formal elections.
Martensdorp Government

Party
Seats
GP
ABB
Transportation
Edit
Martensdorp is located near the B10. There are three other registered streets in the village; Main Street, Canal Street and Abbey Street. Sometimes, the B10 is called St. Martens Street. (Saint Martin is the saint patron).
There are no other connections with other places on Brunant Island. All other localities, towns and even Brunantstad are only accessible by roads. Martensdorp has connections with other Brunanter islands across the Mediterranean Sea. The island has no railways, neither tram systems.
The whole area around Martensdorp has excellent cycle paths, as well hiking trails.
See the page Map colors for an explanation of what each color means.
FOR SALE
2 St. Martens Str.
B
1
0
Group M
1 St. Martens Str.
James Stanton
4 St. Martens Str.
FOR SALE
3 St. Martens Str.
Sneijder KC
1 Stanton road
FOR SALE
3 Stanton road
FOR SALE
5 Stanton road
FOR SALE
7 Stanton road
Stanton Road
Marten House
6 St. Martens Str.
BSL
5 St. Martens Str.
FOR SALE
2 Stanton road
FOR SALE
4 Stanton road
FOR SALE
6 Stanton road
FOR SALE
8 Stanton road
Emergency
8 St. Martens Str.
FOR SALE
7 St. Martens Str.
Settlements in Brunant
Adams:
Cities, towns and villages: Adamstown • Middleton
Localities: Elsing • Fontanet • Hindon • Starford
Brunant:
Cities, towns and villages: Brunantstad • Martensdorp • Swantown
Localities: Silvana
Cape Cross
Cities, towns and villages: Brezonde • Cape Cross • Koningstad
Localities: Alt-Vermel • Bacena • Belmont • Denia • Geitstand • Grisant • Havery • Iban • Mercurius • Newbury • Penalmont • Portin • Prinsenberg • Ravels • Santa Tereza • Sant-Felix • Swintley • Wiets
Carrington:
Cities, towns and villages: Carrington • Niesburg
Localities: Belcava • Bryonia • Castle Baily • Castramont • Cowlton • Henley • Loudon • Santa Maria nal Camp • Santpeter • Stanford • Vianna
Central:
Cities, towns and villages: Boguestown
Localities: Acrine • Barnbrook • Berganz • Bowington • Cornel • Limes • Lincoln • Littles • Newell • Ristley • Tindall
Chester:
Cities, towns and villages: Chester • Grijzestad
Localities: Aramore • Carelsdorp • Carron • Campen • Finland Groves • Kleinebeek • Limburg • Noordendal • Oudeklooster • Roster • Varsenare
Drenthe:
Cities, towns and villages: Drenthe • Sint-Hendrikstad
Localities: Alba • Annandale • Arstad • Bi • Blancart • Blanden • Caster • Cortesem • Hamme • Heusal • Holsbeck • Kirkenberg • Lagermarkt • Loven • Marken • Newdowns • Nieuwbergen • Nieuw Friesland • Nieuw Girona • Oosterhaar • Orust • Paterswolde • Pietersdorp • Pleinlouis • Polpis • Salbes • Simonshaven • Sint-Anders aan Martiges • Trier • Vreise • Wilmarn • Zuidendorp • Zwartdorp
Helmond:
Cities, towns and villages: Nieuw Helmond • Roodstad
Localities: Alzar • Brandis • Carante • Cardon • Gessel • Haren • Issen • Perbe • Pyrmont • Sint-Elisa • Tangres
Mariaberg:
Cities, towns and villages: Donderstad
Localities: Bussot • Caborna • De Weg • Huisreal • Mariaberg • Portela • Ravaner • Roures • Sint-Laurens • Venetie • Zouter
Roseland:
Cities, towns and villages: Rosetown
Localities: Aurora • Ingley • Narvas • Witney
Sint-Anders:
Cities, towns and villages: Charles Town • Grunbeck • Sint-Anders
Localities: Ambrosian Hills • Bergantin • Berslet • Boskerk • Cavell • Listan • Littlehampton • Olivers Lane • Secret Lakes • Tourford
Sint-Willemstad:
Cities, towns and villages: Sint-Willemstad
Localities: Benicar • Domenech • Gardes • Hanenberg • Isabelle • Kapeltoren • Martiges • Milde • Mondier • Rosselare