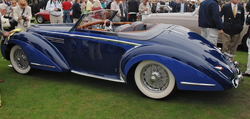 Martell-Werner was a Brunanter luxury car manufacturer and one of the most prestigious makes of that country. Production ran from the early 1920s to the 1950s, a span of 30 years. Five models were produced by the company, all cars hand made.
Adrian Martell (a designer) and Hans Werner (a furniture maker-designer) founded a specialized company that custom built cars in 1922. Martell-Werner began making cars in 1923 (about 5 per year). Hand crafted out of the finest materials, each one sold for Th. 17,500 (about US$ 5,700 in 1930). During WWII production was interrupted but after the war they began building cars (in 1947). In 1953 the two men ended car production after producing 116 cars in 24 years. Between 1953 and 1957 they also supplied bodies to several manufacturers, as well as creating a rare convertible conversion for the Carona Stella.
Martell-Werner T-23 "Cygne" (1923-1926)
Martell-Werner T-28 "Victoria" (1926-1931)
Martell-Werner T-31 "Libertas" (1931-1937)
Martell-Werner T-37 "Luxor" (1937-1949)
Martell-Werner T-48 (1948-1953)
Ad blocker interference detected!
Wikia is a free-to-use site that makes money from advertising. We have a modified experience for viewers using ad blockers

Wikia is not accessible if you've made further modifications. Remove the custom ad blocker rule(s) and the page will load as expected.