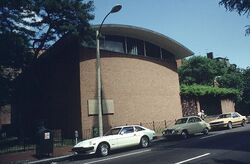 The Mariakerk is a church in the U-Stad district of Grijzestad. It was built in 1938 but the church was destroyed by bombs during the German Invasion of Brunant. Largely unused for several years, plans were laid out to build a new church in the late 1950s following the area's international style. Work began in 1961 and in 1964 the building was complete.
Ad blocker interference detected!
Wikia is a free-to-use site that makes money from advertising. We have a modified experience for viewers using ad blockers

Wikia is not accessible if you've made further modifications. Remove the custom ad blocker rule(s) and the page will load as expected.