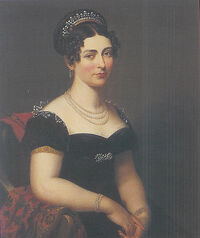 Maria Francesca of Naples and Sicily (1795-1869) was a Queen of Brunant.
Biography
Edit
Maria Francesca was born to Ferdinand I of the Two Sicilies (son of Charles III of Spain) and Maria Carolina of Austria (daughter of Maria Theresa). She had several brothers and sisters, many of which died at a young age of smallpox. Maria Francesca was betrothed in 1818 to Crown Prince Cristian, Duke of Middleton by her parents and his family. In 1821 the she and her husband were married in Koningstad, in an elaborate ceremony at Dortmund Cathedral. The couple lived relatively happy, although he did take on various mistresses. With the death of King Ambroos I in 1823, she became the Queen consort of Cristian. That year, she gave birth to a daughter, Helena Marie. She had another girl in 1824, who died of smallpox in 1829. She bore her husband a son, Philip (in 1826) and he was overjoyed, but sadly the young boy died of sickness two years later. In 1827 she provided Cristian with a male heir, Johan and she would have two more sons and a daughter. In 1859 King Cristian died and the queen was in mourning and in fragile health. She moved permanently to Corfu (in Greece) to "freshen up" her health in 1864, and she died there in 1869. The queen was interred at the Realpaleis' mausoleum that year.
The couple had seven children, four of which outlived her:
Princess Helena Marie (1823-1874), married Max of Lippe-Biesterfeld, had issue
Princess Augustina (1824-1829), died of smallpox
Prince Philip (1826-1828), died in infancy
Johan Friedrich Alexander (1827-1894), married Caroline Amelie of Schleswig-Holstein, had issue
Prince Fabian Philip (1829-1881), married Elizabeth, Duchess of Norburg and had issue
Ferdinand Eric Maria (1831-1866), married Andrea Slesinger, no issue
Gisela Alexandra Louise (1833-1910), married Jose I of Traspes, had issue
Ad blocker interference detected!
Wikia is a free-to-use site that makes money from advertising. We have a modified experience for viewers using ad blockers

Wikia is not accessible if you've made further modifications. Remove the custom ad blocker rule(s) and the page will load as expected.