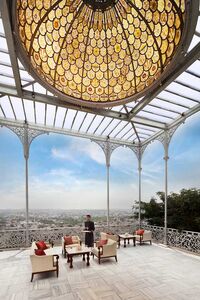 The Royal Koningstad is a luxury hotel in Koningstad, owned and operated by Majestic Hotels. There are 60 rooms in the hotel.
It was built as a stately summer residence by Philip Alexander, Count of Drenthe as a summer resort north of what is now the Arabian Quarter, on a hill. Construction began in the spring of 1795 and his stately summer home was finished in 1801. He would entertain other nobles and even the king, on more than one occasion. In 1865 the house was sold to senator (and future President) Filip Van Buskirk, who passed it down to his eldest son Mark and his only daughter, Beatrice. Beatrice, a wealthy widow, converted the house into a hotel in 1930. This quickly became one of the top luxury hotels in the country, known for impeccable service only rivaled by the world's best. In 2000 the hotel was taken over by Majestic Hotels of Juliana.
Rooms start at €500, and the Suite Royal goes for €3,000 per night.
Ad blocker interference detected!
Wikia is a free-to-use site that makes money from advertising. We have a modified experience for viewers using ad blockers

Wikia is not accessible if you've made further modifications. Remove the custom ad blocker rule(s) and the page will load as expected.