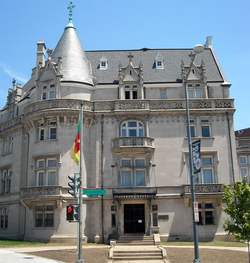 The Mäöreser Embassy is the diplomatic mission of the Republic of Mäöres in Koningstad. It is located at 1 Carrington Avenue, Koningstad Centrum. The current ambassador is Joean ven Iggipte.
The building
Edit
1 Carrington Avenue was built from 1798-1800 as the residence for Louis Mathers. The house was sold by the family in 1823 and went through several owners before being purchased by Mäöres in 1937.
Ad blocker interference detected!
Wikia is a free-to-use site that makes money from advertising. We have a modified experience for viewers using ad blockers

Wikia is not accessible if you've made further modifications. Remove the custom ad blocker rule(s) and the page will load as expected.