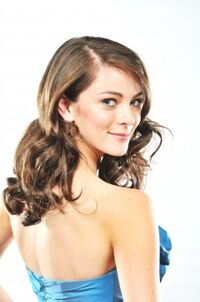 Juliana Marie Van Draak (born 4 July 1991) is a Brunanter politician and distant member of the Royal Family. She is currently fourteenth in the line of succession to the throne. Juliana is unofficially known as Lady Van Draak.
Biography
Edit
Juliana was born in 1991 as the only child of Prince Hendrik and Sofia Andersen. Her father was the eldest child of Princess Angela and a grandson of King Marten II and her mother is a well-known politician. She studied business management and public administration at the Royal University of Koningstad.
In 2012, Van Draak started working at the Brunant government, serving as a personal secretary to President Gert Henneman.
Following Sofia Andersen's retirement from politics in 2012, Juliana succeeded her mother as the new Senator from Sint-Willemstad Parish. In 2013, she was appointed as the new Minster of the Environment in the Wostor government, becoming the youngest minister in Brunanter history.
Unlike her mother who is a radical conservative, Juliana Van Draak is a left-wing politician with progressive and socialist political views. She is a member of the Social Democrats.