John Galway (1898-1967) was a Sint-Anders Parish politician and the 20th Mayor of Charles Town, from 1950 to 1958.
Biography
Edit
Family background
Edit
John Galway was born on a farm nearby Charles Town to John Sr. (1862-1942) and Martha Kilgariff (1871-1949), who immigrated to Brunant about 1890. His father was killed in 1942 for being opposed to the Nazis. Galway joined the Underground Revolution and was a spy against the Germans.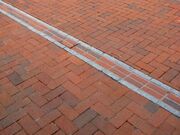 Galway was town clerk of Charles Town under the (in)famous James Lawrence during Lawrence's 1946-1950 term. When Lawrence was serving five months in prison in 1947 for official misconduct, Galway served as acting mayor. Angry about Lawrence's off-hand but disparaging comments about his acting mayor's performance, Galway decided to challenge Lawrence in the 1950 election and defeated him. Galway defeated Lawrence a second time in 1954 and went on to serve as mayor of Charles Town until 1958. His son, Jack Galway, is a longtime news anchor in Sint-Anders.
During his tenure as mayor, Galway opened the Discovery Trail, in 1953, which traces many of Charles Town's historic landmarks, after having promoted the idea of a pedestrian trail to link important local landmarks since 1951. Galway and his successors, Collin Johns and Kevin Black, are most responsible for the modernization of Charles Town.
References and notes
Edit
Ad blocker interference detected!
Wikia is a free-to-use site that makes money from advertising. We have a modified experience for viewers using ad blockers

Wikia is not accessible if you've made further modifications. Remove the custom ad blocker rule(s) and the page will load as expected.