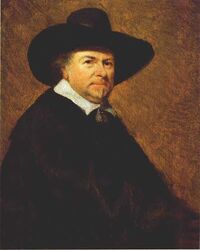 Johannes Philip Alexander Neyt (2 February 1597 in Grijzestad - 18 May 1648 in Grijzestad), known as Johannes Neyt the Elder (Dutch: Johannes Neyt de Oude), was a Brunanter painter and portraitist. Born into the Grijzestader Neyt family he was able to pursue an artistic career under the tutelage of local painter Ricard de Perle. Neyt's work is not too well known, but it was an inspiration for his grandson, who would become a well-known painter.
Ad blocker interference detected!
Wikia is a free-to-use site that makes money from advertising. We have a modified experience for viewers using ad blockers

Wikia is not accessible if you've made further modifications. Remove the custom ad blocker rule(s) and the page will load as expected.