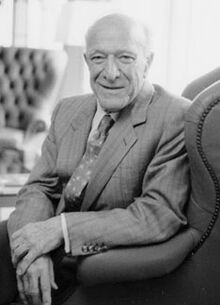 Jeremy Morels (born 1933, Beaucaire) is a Franco-Brunanter winemaker and businessman.
Biography
Edit
Morels came to Brunant in the 1960s and started the Morels winery in 1965, buying a run-down and unrpoductive winery in the Sint-Anders area. Morels was in charge of operations since the start and oversaw all aspects of the winery. In the start it was a very small winery, but over time he ensured that it was well-kept and led it to the fifth largest in the country. His wines are considered among the best in the country and have consistently ranked as one of the top 5 wines by Wine Tasters, earning top spot with a 95 pt. rated Listan in 2013.
In 2006 he made a similar venture in Libertas. He took over Wijnhuis Terrais, a small Libertan vinyard and soon worked to produce some of the best Libertan pinot. His Terrais Pinot Gris is considered one of the best of its kind and has been rated the best Libertan wine by Wine Tasters for 2013 (89 pts).
Most recently he started a venture with Lovian winemaker Andy Tyne to create World's End Winery in Oceana, Lovia.
Ad blocker interference detected!
Wikia is a free-to-use site that makes money from advertising. We have a modified experience for viewers using ad blockers

Wikia is not accessible if you've made further modifications. Remove the custom ad blocker rule(s) and the page will load as expected.