The Inter District is the newest neighborhood of Koningstad. This neighborhood is known for being home to many immigrants, including Irish and Greek, plus Turkish and North African.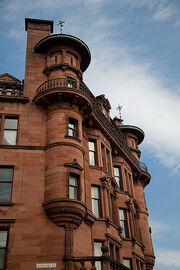 The Inter District area was first populated in the early 20th century. The Inter District was founded in 1946 and was a haven for escapees leaving the aftermath of WWII.
In the 1970s and 1980s this area became infamous for its crime and violence and became an outcast with regards to Koningstad's "beautification" projects. Following a great fire in 1992, the government rebuilt much of the district, improving sanitation and making it a much safer and friendly community.
Neighborhood 
Edit
The Neighborhood is largely composed of Greek, Turks, and Irish peoples. It used to have a significant number of Italians, however they slowly left the Neighborhood. From the 1980s, it has begun to see a rise in North African population.
The neighborhood itself is an eclectic mix of different architectural styles and buildings. The oldest buildings there include the post office and several nice apartments from the 1910s and 1920s. The majority of the quarter was built in the 1940s through 1970s and is characterized by plain concrete buildings, reminiscent of communist architecture. There was a large fire that ruined much of the Inter District in 1992. Following this, the city and government embarked on a large plan to completely renovate the district, and now one can find several contemporary and modern buildings as well.
Locations in the quarter
Edit
See the page Map colors for an explanation of what each color means.
FOR SALE
33 Van Horne
FOR SALE
1 Down Street
*1
FOR SALE
5 Marquis Street
FOR SALE
3 Down Street
*2
FOR SALE
23 Van Horne
FOR SALE
21 Van Horne
Palisade Building
31 Van Horne
Marquis Plaza
FOR SALE
27 Van Horne
Van Horne Avenue
FOR SALE
26 Van Horne
Samaniega Primary School
24 Van Horne
Palisade Center
FOR SALE
20 Van Horne
Fnac Brunant
18 Van Horne
FOR SALE
16 Van Horne
Jaguar-Ford Kateb
25 Varne Street
Princess Marianne Hospital
23 Varne Street
FOR SALE
1 Findlay Street
Sheperds/De Herders Park
FOR SALE
21 Varne Street
FOR SALE
19 Varne Street
Hot Hat's
17 Varne Street
FOR SALE
15 Varne Street
Varne Street
Soli
32 Varne Street
FOR SALE
30 Varne Street
FOR SALE
28 Varne Street
FOR SALE
26 Varne Street
Sebastian Cambert College
24 Varne Street
FOR SALE
22 Varne Street
FOR SALE
33 Van Horne
FOR SALE
1 Down Street
FOR SALE
5 Marquis Street
*1 - Van Draak Street
*2 - Ambroos-straat
Ad blocker interference detected!
Wikia is a free-to-use site that makes money from advertising. We have a modified experience for viewers using ad blockers

Wikia is not accessible if you've made further modifications. Remove the custom ad blocker rule(s) and the page will load as expected.