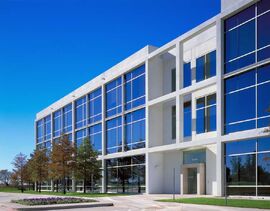 Industriestad is an industrial neighborhood of Koningstad. It literally means "Industry City" in Dutch.
The Industriestad area has historically been centered around industry and commerce. In the 17th and 18th centuries, the whole north riverbank was lined with merchants' store-houses and warehouses on a quay. In the late 19th and early 20th century several factories began popping up in the area, leading to heavy growth which was only halted with WWII. In the 1910s, the whole of Vandelet Quay was renovated after years of decay. The old warehouses were converted into apartments, and restuarants and shops soon sprung up.
The Germans in 1941 and 1942 destroyed many factories which were only rebuilt in the 1940s or early 1950s. There was only modest growth until the 1970s, when an economic boom resulted in more factories and production. Today the city is focused on making the quarter more "green" and cleaning it up.
Neighborhood map
Edit
See the page Map colors for an explanation of what each color means.
Source from here
---
Ad blocker interference detected!
Wikia is a free-to-use site that makes money from advertising. We have a modified experience for viewers using ad blockers

Wikia is not accessible if you've made further modifications. Remove the custom ad blocker rule(s) and the page will load as expected.