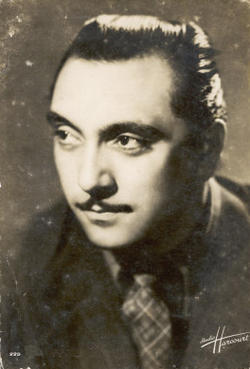 Hugo Barbens (1894-1943) was a Brunanter musician and club owner.
Biography
Edit
Barbens was born to a Barzuna family in Brezonde. He was a jazz musician but only achieved popularity in the 1930s. His preformance at the National Theater (in 1934) was what launched his career. Barbens sung originally in the Brezondian language but began recording music in English in the mid 1930s. In 1938 he opened up Cafe Hugo in Koningstad, a popular jazz-club in the city.
Wartime activities
Edit
Barbens' wartime activities have generated much controversy. Following the German Invasion of Brunant, he became a Nazi informant and secretly (and later openly) participated in activities. In 1942 he became a resistance fighter, feeding the Germans false information and harboring Jews in his basement. In 1943 he was shot an killed outside his club when the Nazis found out he was a double agent.
Ad blocker interference detected!
Wikia is a free-to-use site that makes money from advertising. We have a modified experience for viewers using ad blockers

Wikia is not accessible if you've made further modifications. Remove the custom ad blocker rule(s) and the page will load as expected.