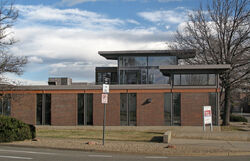 The Hendrik Neyt Primary School is a public school in Grijzestad's U-Stad quarter. It was built from 1961-1962 and was named after former President Hendrik Neyt. The school's head teacher is Isabela Groteman.
The school features a modern 1960s design and was built by local firm Vangraf Architects.
The school has specialized teachers and instruction for special-needs students in order to help them have access to and receive a good education.
Ad blocker interference detected!
Wikia is a free-to-use site that makes money from advertising. We have a modified experience for viewers using ad blockers

Wikia is not accessible if you've made further modifications. Remove the custom ad blocker rule(s) and the page will load as expected.