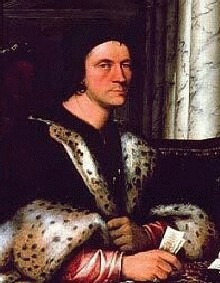 Pieter Paul Hans Niehorster (1380-1457) was the second president of the Brunanter Republic and one of the Founding fathers of independent Brunant.
Biography
Edit
Niehorster was born in Antwerp to a cloth merchant and his wife (of Frankfurter origin). He came to Brunant in 1419 to open up another market for his uncle's shipping business. Niehorster was charged with building the port of Grijzestad and was soon a major supplier of the Dutch and the independence movement. He attended the Convention of Grijzestad and was a signtory of the Declaration of Independence and the Grijzestad Constitution of 1427. Due to his connections he was an important official within the old republic, and served as the main adviser on trade to the government. Niehorster became a very rich man and lived in a luxurious home in the Old Town of Grijzestad. In 1439 he was elected president by the Republican Estates. As president he began increasing trade, with the Netherlands, Genoa and Spain. Niehorster's rule was marked with an increased influence of merchants and in the later part of his term was actually under the control of several rich merchants. The Estates met in secret in the summer of 1457 to devise a way to remove him from power, but old Niehorster died in July of old age.
Niehorster married two times and has nine children. His three sons were given prominent positions in government but were dismissed following their father's death.
Ad blocker interference detected!
Wikia is a free-to-use site that makes money from advertising. We have a modified experience for viewers using ad blockers

Wikia is not accessible if you've made further modifications. Remove the custom ad blocker rule(s) and the page will load as expected.