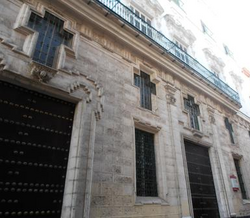 The Grijzestad Hospital is the principal hospital in Grijzestad, Brunant. It was built in the 1410s and was located adjacent to the Grijzestad Cathedral. The hospital, which was made of wood, perished in the Grijzestad fire of 1480. It was rebuilt, this time in stone, in 1488. The current hospital was built in 1804 and has been refurbished over the years.
Grijzestad Hospital is the largest in Hogeberg Island.
Ad blocker interference detected!
Wikia is a free-to-use site that makes money from advertising. We have a modified experience for viewers using ad blockers

Wikia is not accessible if you've made further modifications. Remove the custom ad blocker rule(s) and the page will load as expected.